August 30, 2013 at 8:00 AM •
Comments: 2 Faves: 0
Plus Size Fall 2013 Fashion Trends
Stripes, mesh, colorblocks and floral print are just a few of the fashion looks for Fall 2013. I could go on and on about more styles, but I thought it'd be best to focus on my top 4 first. :)
With each of these styles there are endless possibilities on how to wear them this fall. I'll try and give at least two of my favorite picks for each one of them. Then, you can decided what fits your style the best!
.
Stripes
A common fashion myth is that plus size figures should not wear stripes. This is untrue! According to fashionista blogger, Mommy In Heels, stripes accentuate any body type positively. She read the September Issue of Instyle Magazine and it confirmed that stripes are perfect for any body shape.
Style: Calvin Klein
Price: $87.99
Why I like it: I LOVE the spritz of color at the bottom of the dress, it adds another level to this striped ensemble! Also, the color is very vibrant – which, for me, is a plus! This is a perfect striped dress ensemble for this fall. A striped shirt feel with the buttons and short sleeves, but dressy with the black, skinny belt to accentuate the waistline. This dress was featured in Plus Model Magazine.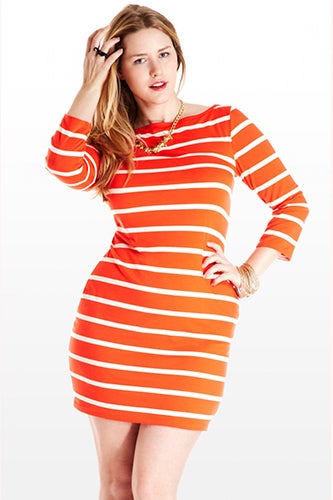 Style: Fashion to Figure
Price: $34
Why I like it: Another stripe dress I love has a very vibrant fall color – orange. Usually, I don't like to wear bright colors – but this dress is just too cute. Love the ¾ inch sleeves and the color!
.
Floral
Floral designs are making a comeback. This past summer season, I bought a bunch of floral tank tops from local thrift shops. Outfits that are flowery make me feel light and airy. This same feel can carry over to this fall season as well. There are many cute floral dresses out there.
Check out this one for starters:
Style: Roaman's
Price: 44.99
Why I like it: I love the blue undertone with the colored flowers overtop. And, did you see the frills on the end of the dress? SO CUTE! This dress be perfect for the fall with some leggings.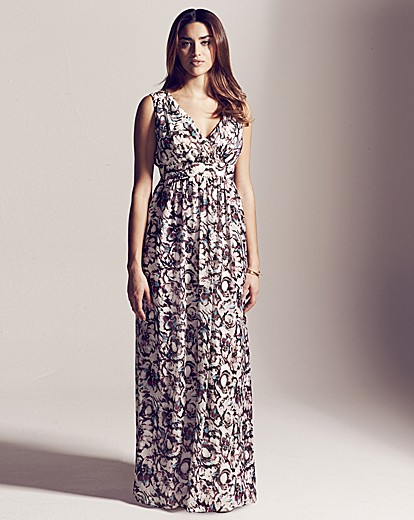 Style: Project D London
Price: 70 Euros
Why I like it: Another Floral Dress I absolutely adore is one from Project D London. It has aspects of the previous dress, but the color is more subdued, the dress is longer and more elegant. The low v neckline is adorable. I also love the way the dress is floor length – it would be perfect for a sunny, autumn day in the park
.
Mesh
Mesh has been turning up all over lately. I've seen people wearing it over their tank tops this summer. It gives a dresser feel to an outfit when it's just too hot out to wear anything but a tank top. However, I've also seen it worn with leggings and skinny jeans for more of a fall look and it's great that way too, check out the example below:
Style: Forever 21 Canada
Price: 18.80
Why I like it: I love the cut! Short in the front with longer fabric in the back! Okay, so I'm usually not too keen on Deb, but they have some great looks this fall and lots of awesome sales! This mesh tank top would be perfect to wear underneath a cardigan in the fall.
Style: Deb
Price: $7 on clearance
Why I like it: LOVE LOVE LOVE the ruffles. So cute!
.
Colorblocks
I'll be honest, I never knew what the term "colorblock" meant until this fall. Now that I look back on the term, it's extremely explanatory. Blocks of color, literally. And that's what I've been seeing a lot for this year's fall fashion. Colorblock dresses. One of my favorites is actually a white and black combination, pictured below
Style: Tabitha
Price: $195
Why I like it: The way the black and white is arranged in this ensemble is gorgeous. I love the half-tone to this dress.
Style: Lane Bryant
Price:$59
Why I like it: Here's another elegant colorblock dress, but this one goes all the way down to the floor. It's perfect for a night out or a dressy day at the office. I love the diagonal blocks at the very edge of the dress. The gold accept across the waistline is also adorable!
Those are all my fun ideas for fashion this fall. Hope you enjoyed my blog and maybe it will give you ideas for your wardrobe. It certainly gave me some!
More from Bri Luginbill Others Are Reading
2 Comments
Great Blog!

Nice tips Bri! But I must say, stripes can be tricky. They can make you look crooked if you're not careful!