April 1, 2019 at 11:20 PM •
Comments: 0 Faves: 0
Automatic smokeless eco-friendly carbonization furnace
currently, there are three types of carbonization furnace--ordinary type (can only be used to produce charcoal but collect gas); Wood carbonization equipment (used for carbonizing tree branches, wood blocks, coconut shell blocks, and leftover bits in furniture factories, etc.)Carbon powder production line (applicable for the production of carbon powder machine, and also process rice husk, sawdust, bamboo charcoal into carbon powder then into activated carbon).The new type of carbonization furnace can achieve the effect of the two machines. The materials can be directly carbonized or can be first made into rod then carbonized.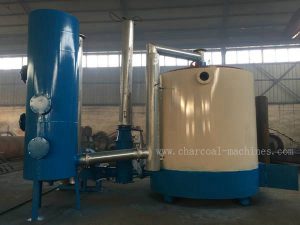 Continuous carbonization furnaceone of the series of charcoal machines can process wood chips, rice husks, peanut shells, plant straws, bark and other wood materials containing carbon (the volume of which is less than 15mm) through dry distillation, oxygen-free carbonization with high carbonization rate under high-temperature conditions.
The Continuous carbonization furnaceadopts the advanced recycling and purification technology for carbon monoxide, methane, oxygen and other combustible gas processing in carbonization. Therefore, solves the common problem of smoke pollution, and the heating problem of charcoal machine equipment, thus achieved the fully self-sufficient result, the continuity of the equipment was improved. It makes full use of agriculture and forestry residues, turning waste to wealth, thus reducing the tension between supply and demand of forestry resources in our country, contributing to environmental protection.
The flue gas produced in the carbonization process is combusted through the processes of spraying, cooling, and purification. In this way, the heat generated by itself can re-heat itself thus saving energy. In addition, after the process in the pipeline, there is no flue gas emitting in the production environment. The new coking furnace is composed of five parts: combustion chamber, carbon chamber, coal inlet and outlet device, gas recovery and utilization system, waste gas treatment and bootstrap system.
Interested to see thecarbonization furnace
Please pay attention to our website for more details:
https://www.charcoal-machines.com/continuous-carbonization-furnace.html
0 Comments