February 16, 2012 at 9:31 AM •
Comments: 0 Faves: 0
PetCo Being Sued for Supposedly Cutting Off a Dog's Ear
Welcome to The Kibble. This week we are posting twice because of some breaking news! Petco is being sued for allegedly cutting a dog's ear off.
Yes, you heard me right. Two animal owners in Hawaii are suing a local PetCo. The reason? They dropped their dog off to be groomed at PetCo. However, when they went to pick up their dog from the groomer, they noticed their pup's ear was not looking quite right. In fact, a part of it was missing!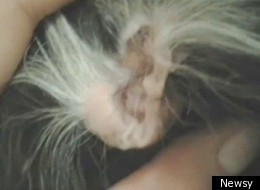 Photo Credit: HuffingtonPost, Newsy
"[She] was dried, bloody, was dry blood, everything," Kapuwai, one of the dog's owners, said, "I noticed that at home, so when I took her to the vet, the doctor had told me it looked like they tried to glue it back."
Wait, it looked like it had been GLUED together? Not exactly the standards professional grooming should be held to. I mean mistakes do happen. Maybe the groomer or the dog moved a wrong way and what a snip of the hair should have been went a snip of the ear.
All judgments and accusations aside, they should have just told the poor woman if something had happened. Instead, she had to find out when she went home. At that point the doctor she called said he couldn't even salvage that part of the dog's ear.
"Even the doctor said they could have saved her ear if they told me right there, but they didn't," said Kapuwai.
Sadly, the ear wasn't the only part of the grooming that was lacking. The dog's nails were bleeding because they had been cut too short, the overall coat of the dog was dirty, and even the tip of the tail had been cut off.
Michael Green, the joint owner of this dog, expressed his own thoughts on the matter, "I guess they wanted to take off other body parts."
Check out this special interview with the dog's owners and then share your thoughts below!
How do YOU feel about this? What would you do if your dog came back from a groomer looking like this?
Photo Credit: amymyou
Sources: http://www.ibtimes.com/articles/299739/20120216/petco-hawaii-sued-cut-dog-ear.htm
http://www.huffingtonpost.com/2012/02/14/groomer-cuts-dogs-ear-off_n_1276593.html
More from Bri Luginbill Others Are Reading
0 Comments