April 12, 2012 at 9:25 AM •
Comments: 4 Faves: 0
Biggest Loser Contest: Cat Edition!
By Bri Luginbill
From the The Scratchpad Blog Series
Hello and welcome to The Scratchpad. Here to bring you the most recent in cat news, research and more.
Many of you may have watched or heard of the show "Biggest Loser" – where people compete against each other to shed as many pounds as possible. Think of that same concept, but picture cats and dogs as the participants. Owners have taken their pets to the scales and decided it was time to enter them into Pet Fit Club.
Five felines made it into the final round and there is no turning back. "Before" photos have been taken and weight-loss regimens are now in place. The contest will end in September 2012 and we'll see who turns out to be the winner!
Now, let's meet the contestants.
Fifi Bottomley
Weight: 9.92 % overweight: 107% Ideal weight: 9.9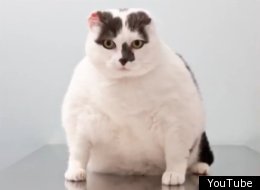 Fifi is just like any other cat at heart. She loves to pounce and play, but her jump packs a little more bounce due to her size. Fifi is the largest cat in the competition, weighing in at a whopping 20.5 pounds. Her ideal weight is 9.92 pounds, which makes her 107% overweight!
There is a story behind the weight gain though. Fifi wasn't always a large kitty. When she was a kitten, she was malnourished and survived on the streets by stealing food from other cats. When she was taken in by her current owners, her survival tactic did not go away. In fact, she started stealing food from neighborhood cats, directly from people's plates, and she even coaxed the next door neighbor lady into giving her scraps. Her owners didn't know who to turn too, so they contacted the Pet Fit Club.
"We entered Fifi into Pet Fit Club as we've tried everything and didn't know what else to do. We are desperate to get her to a healthier weight, but we know it must be done carefully as the vet said it can be dangerous for cats to lose weight too quickly."
Billie
Weight: 18.51 % overweight: 91% Ideal weight: 9.9
Billie has the same playful nature as Fifi and the same bad habit of stealing other cats' food. He especially loves to take food from the other cat companion of the house, Bobby. His owners attest that it's not a rare site to see Billie, licking up the last of his roommate's food. Recently, Bobby passed away and now Billie is eating even more than usual, but it's hard for the owners to say no to him.
"It has been hard to deny him especially since we lost Bobby who had been his companion for 11 years. I'm sure he will enjoy life and maybe the great outdoors far more when he has lost a few excess pounds."
They know the best option for Billie is to lose the weight and that's why they decided to get extra help by entering him into the Pet Fit Club.
Casper
Weight: 18.51 % overweight: 91% Ideal weight: 9.9
Like Fifi and Billie, Casper was a kleptomaniac when it came to food. Once he spotted a morsel, it wouldn't leave his sight until he got his paws on it. He came from a rough background though, so his instinct to latch onto food right away was what helped him survive.
His owner, Christine, rescued Casper from a house overrun with cats. When she found him there, he was thin, hungry and meowing for food. He had learned that if any food was present, he must eat it and eat it fast. When taken in by Christine, he was able to gain the appropriate weight for his size - but he just kept going.
Christine explained that it was like his appetite never seemed to be satisfied. She felt bad when he meowed out of what appeared to be hunger, so she kept feeding him more and more. She has tried walking him in a harness and other exercise tactics, but nothing has really made the weight stay off in the long run. She's hoping Pet Fit Club can devise a good regimen for him that will keep the pounds off permanently.
Maverick

Weight: 22 lbs. % overweight: 85% Ideal weight: 12 lbs.
Maverick has a bit of a different story - he was already overweight when taken in by his owners. They found him roaming the streets and couldn't help but make him part of the family. Their house was full of everything a cat could want: owners to feed and pet him as he pleases, scrumptious treats, and a warm, comfy places to sleep.
It came to no surprise that Maverick added on the pounds fast and he won't stop. Even though he is fed three times a day, he still meows for more food. Sometimes he feels a bit adventurous and will even steal food from people's plates (kind of like Fifi).
His owners love him dearly but are worried because he has a lot of breathing problems now due to his gigantic size, "We really want Maverick to get back to a healthier weight, as we want the best for him and feel sorry for the poor wee man. He is such a wonderful pet and does get treated like a baby and we would be lost without him."
Mini Moo
Weight: 21 lbs. % overweight: 94% Ideal weight: 11 lbs.
Mini Moo wasn't always a hefty kitty. When her owner was diagnosed with Lupus, Moo didn't want to leave her side. She comforted her and cuddled with her on the couch – a loyal pet!
Unfortunately, Moo made lying on the couch a bad habit. She loves to lounge around all day and not do a single thing. Also she's a hog when it comes to eating. She enjoys devouring anything from cheese to butter!
She's hoping that Pet Fit Club will whip Mini Moo into the shape that he used to be!
Healthy Weight Loss
This contest isn't solely focused on quick, fast weight loss. Pet Fit Club's mission is to help their contestants lose as much weight as possible –in a healthy way. A meal plan and exercise routine will be carefully picked for each cat. Also, each pet will be closely followed by licensed veterinarians.
To close, I'll leave you with the wise words of a veterinarian: "the good news is that it's never too late to make positive changes to a pet's diet and lifestyle."
For information on how you can change your pet's lifestyle, check out our health coach, Victoria's blogs on natural cat food options.
How do you keep your cat healthy and fit?
Sources: http://www.pdsa.org.uk/pet-health-advice/pdsa-pet-fit-club
http://www.pdsa.org.uk/pet-health-advice/pdsa-pet-fit-club/billie
http://www.huffingtonpost.com/2012/04/05/obese-pets-put-to-test_n_1407289.html
Photo Credit: Youtube, PDSCA
More from Bri Luginbill Others Are Reading
4 Comments
Awww... but look how snugly they are!! *dies*

Looks like my Apollo! He's my baby seal kitty - he's short and round, heavy as a 1 year old with the absolute thickest short gray fur I've ever seen. He actually repels water! He's so funny and cute - he's this super fat cat, but he moves super carefully and delicately and has the ittiest bittiest meow. n.n

I totally agree! They are all so cute! My favorite of the two are Fifi Bottomley and Mini Moo because of their names! :D

Boy, it is never good to be double your ideal weight, although it makes Fifi look hilarious and adorable! These are some monster cats, but I am interested to see if this works or not. I know of a lot of people who have trouble with their pets' weights.